Birth Center
Welcome to our newly constructed Birth Center! We invite you to tour our family-oriented Birth Center and experience the warm, homelike atmosphere throughout our secured unit. Call 228-6830, extension 270 to schedule a tour.
Birthing Suites
Each large birthing suite includes many new and exciting features.
Features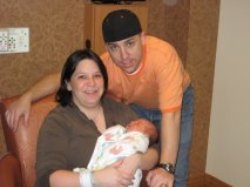 "Homey" atmosphere
Kitchenette with microwave & refrigerator
Oversized fold-down recliner
Slide-out settee
Glider
Private bathroom with whirlpool tub
Rotating flat screen TV with DVD/VCR
Other complimentary ammenities
Baby hat and bib
Diaper bag
Large Canvas bag
Personalized Baby Care Information
Personalized Self Care Information
"My First Photo" baby picture options
Celebration meal for mom and person of her choice


Visiting Policy
Our open visitation policy allows family members and friends to schedule visits to meet the client's individual needs. Moms, please notify the nurse if you wish to limit visitors or to hold calls while you are resting.
Because yours and your baby's safety is very important to us, our new unit is secured. Visitors must check in with the nurse's station to be admitted into the unit to visit.
Web Nursery
Please feel free to visit our web nursery. To protect the privacy of our mothers and babies, to view a specific baby, you will be asked for a password which must be obtained from a parent. First pictures will be available within 24 hours of delivery, and may be updated throughout the baby's stay. Parents are given to option to post their baby's pictures online - not all parents will choose to participate.
Childbirth Education Classes
We encourage any questions you may have regarding your pregnancy, birth, and/or infant care. We are here to assist you in any way we can.
Delivery Physicians
We have 4 physicians delivering babies at FCMC.
Floyd County Area Practice: 641-257-1184
Dr. Janet Tull
Charles City Family Health Center: 641-228-5151
Dr. Paul Royer
Dr. David Schweizer
Dr. David Schrodt
I want to send my highest appreciation to the beyond wonderful nurse who did bloodwork on me this morning. I have never had a positive blood drawing experience in my life, but this woman was truly amazing. I hope to see her again and definitely hope she is at FCMC for years to come. Her professionalism, patience, confidence, and attitude make her stand out from so many. -Kristin H